A&J Scott's state of the art sawmill equipment ensures that we deliver consistently high quality timber to customers, while the optimum cutting yield delivered by the hi-tech systems supports competitive pricing.
The process also eliminates waste, ensuring that our product and site is environmentally friendly.
Logs are loaded onto a grading line, where they are sorted and put through a butt reducing process where necessary, before being debarked. Butt chippings and bark are set aside for other uses, such as chipboard manufacturing and horticultural products, eliminating waste.
The logs then pass through a 3D scanner as they enter the sawline, and the best cutting pattern for optimal recovery is determined. The sawline is highly automated, with precision cutting and finished quality provided by our rigorously maintained cutting equipment.
Where required, sawn pieces are then machined to provide high quality finished products. Sawdust and shavings produced during cutting are removed and sold on for other industrial and agricultural uses, again eliminating waste.
The final pieces are stacked for quality checking before being moved on for treatment where required and despatch to the customer.
Timber Treatment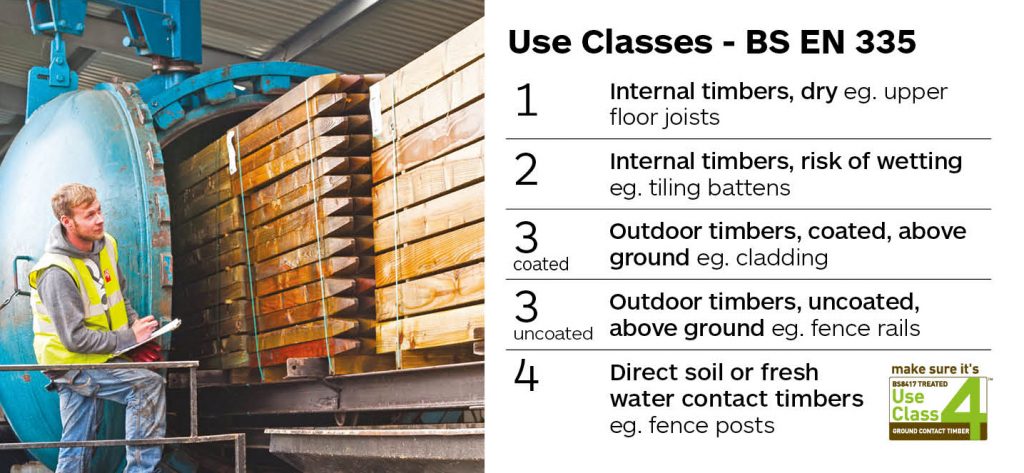 The controlled preservative treatment of timber greatly extends its natural service life and allows it to be used with real confidence in a wide range of end uses.
At A&J Scott we have our own pressure treatment facilities which utilise latest generation Tanalith wood preservative giving a tried, tested and proven protection designed to meet the particular Use Class application of the timber component.
The resulting latest generation Tanalised or Tanatone timbers are available in a choice of green or brown colour finishes.